The Best Picnic Spots in Salt Lake City for Grandparents and Kids
Ready, Set, Picnic!
Your inner grown-up constantly reminds you that not everything in life is all fun and games. But picnicking? That actually is all fun and games. And delicious food and drink. What better way to wind down on a warm summer day than to slip on your sandals, pack a picnic basket, and head outdoors with your nearest and dearest? It's National Picnic Month — time to get out in the sunshine and start making memories. What are some of the best picnic spots in and around Salt Lake City? Glad you asked!
First, a brief look back.
Though picnics have likely been around since the beginning of humanity, our modern concept of picnic didn't take hold until the 18th century. In the Middle Ages, "picnics" occurred during royal hunts, which typically started as formal affairs but often became wild, excessive and decidedly un-picnicky. They were sometimes depicted in artwork, such as the ballads of Robin Hood and the Bayeux Tapestry. The word "picnic" derives from the French "pique-nique," which was used in the 16th century to describe gourmands, or people who brought their own wine while dining out. By the 17th century, the English spelling gained popularity, and the word came to mean outdoor dining on a blanket. Common picnic foods during the 19th century? Roast duck, chicken, meat pie, plum pudding, cheesecake and cold roast beef. And to drink? Beer, claret (Bordeaux-style red wine), sherry and brandy.
Meanwhile, back in 21st-century Salt Lake …
Picnicking is your chance to share quality time with friends, grandchildren, or even your favorite four-legged pal. And if you're lucky enough to live in the Greater Salt Lake area, you have a wealth of choices to stroll, grill, swim, splash, fling a frisbee, toss a horseshoe, and generally recreate to your heart's content. Playing Hot Potato and Duck, Duck, Goose is also permissible. Here are seven of the best places to picnic in Salt Lake City.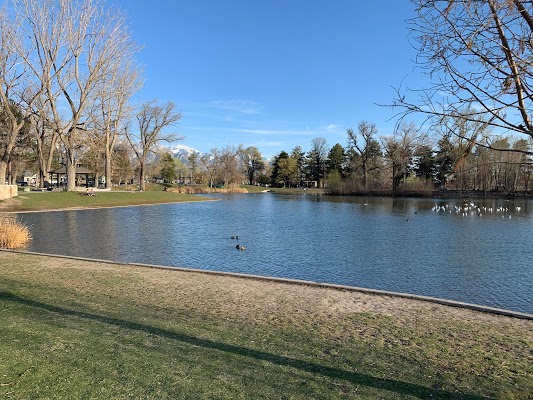 (Source: https://www.visitsaltlake.com/listing/liberty-park/55159/)
1. Liberty Park
With 80 acres to explore, Liberty Park near downtown Salt Lake City has just about everything you need for picnic perfection. Vast open spaces shaded by giant mature trees. Pergolas, picnic tables, a pond with ducks. You'll even find tennis courts and a community pool. It's the second-largest public park in Salt Lake, listed on the National Register of Historic Places. In 1860, the land belonged to Brigham Young, who planted the mulberry, cottonwood and other trees that make this one of the shadiest parks in the city. It's also home to the Tracy Aviary (a rare and exotic bird sanctuary), a kids' amusement park, weekly drum circles and summer farmers markets, and the Seven Canyons fountain and splash pad, modeled after the canyons that flow into the Salt Lake valley from the Wasatch mountains. 
Liberty Park Amenities
 

Playground

 

Swimming pool

 

Splash pad

 

Kids' amusement park

 

Picnic facilities

 

Barbecue grills

 

Sand volleyball courts

 

1.5-mile wood chip running trail

 

Tennis and bocce ball courts

 

Horseshoe pits

 

Pond and paddle boats

 

Walking paths

 

Restrooms

 

Drinking fountain
2. Sugar House Park
This is Salt Lake's largest park, covering an expansive 110 acres. This giant space has everything you need to picnic right or even host a family party. 
 

Multiple reservable pavilions

 

Regulation soccer and baseball fields

 

Basketball court

 

Seven volleyball courts

 

Playground

 

220-capacity amphitheater

 

Bocce ball area

 

Horseshoe pits

 

Sledding hill

 

Restrooms

 

Drinking fountains
A 1.38-mile road encircles the park featuring a 16-foot-wide inside lane for walkers, runners, cyclists, rollerbladers and skate-ski trainers. You can also follow the sidewalk on the park's west edge under 1300 East and explore Hidden Hollow's meandering paths, native vegetation, and rushing Parley's Creek. The best place to set up a picnic? Right by the large, duck-filled pond.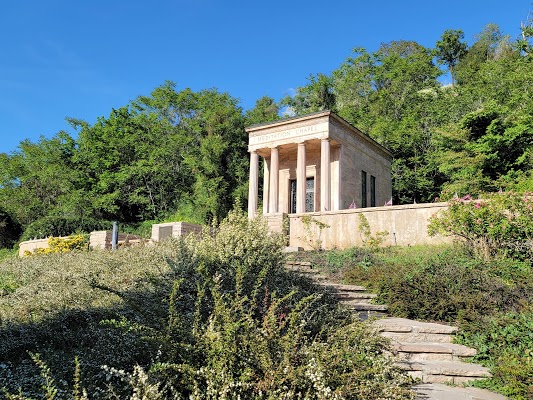 (Source: https://www.visitsaltlake.com/listing/memory-grove-park/55148/)
3. Memory Grove Park
This small, picturesque park was constructed in the 1920s to honor the soldiers lost in World War I. It features several memorials to Utah's veterans, as well as a replica of the Liberty Bell. Memory Grove connects to City Creek Canyon, which features a winding creekside forest road perfect for walking, running and cycling, as well as several trails. The Memorial House, located within the park, is an intimate, elegant, and historic venue set near the greenery and waterways of the canyon. The park has picnic tables where you can relax and eat in comfort.
4. Jordan Park
Shaded by mature trees and cooled by the Jordan River, Jordan Park is a green oasis. In addition to most amenities you'd expect in a public park, Jordan Park has a bike polo court, a skate park, a greenhouse, and an off-leash area for dogs. It also has The International Peace Gardens — founded as a citizenship project encouraging peace and understanding between nations. It was conceived in 1939 and dedicated in 1952. Each participating Utah-based nation group was allotted a plot and has created a garden with native plants, sculptures, architecture, and statues typical of its homeland and culture. The Peace Gardens currently represents the cultural diversity of 26 nations.
Jordan Park Amenities
2 Reservable pavilions

3 Playgrounds

Bike polo court

Skate park

Softball fields

Sand and cement volleyball courts

Horseshoe pits

Restrooms

Drinking fountains

Off-leash area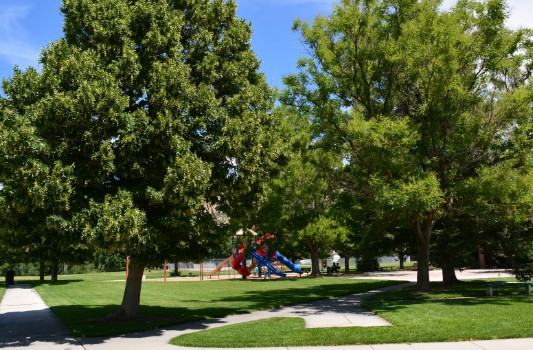 (Source: https://slco.org/parks/canyon-rim-park/)
5. Canyon Rim Park
Located in Millcreek, the 16-acre Canyon Rim Park is the quintessential community park, teeming with kids of all ages, sports and community events, including the free Venture Out summer festival featuring outdoor activities, recreation clinics, live music, food trucks and outdoor movies. It's a fun place for the family and a perfect place for a picnic.
Canyon Rim Park Amenities
Reservable pavilion

Picnic tables

Barbecue stands

Playground

Baseball field

Pickleball and tennis courts

Volleyball nets

Horseshoe pit

Walking path

Amphitheater

Restrooms

Drinking fountains
6. & 7. Lone Peak Park & Dimple Dell Park
Lone Peak Park is the second-largest developed park in the Sandy Parks System, covering 29 acres and offering beautiful mountain views. The park is equipped for large gatherings and even legitimate sports competitions — it has a concession stand and a scorekeepers' building. Best of all, Lone Peak Park butts up against Dimple Dell Park, which offers a variety of hiking, biking, horseback-riding and dog-walking trails through more than 600 acres of natural landscape. Access Dimple Dell Nature Park at The Wrangler Trailhead at 10400 South 1300 East. There are restrooms, picnic tables, and a drinking fountain available at the trailhead.
Every day is a picnic at a Ridge Senior Living community.
That's right Salt Lakers, when it comes to recreation, you live in a region brimming with opportunity. Check out these Top 10 Things to Do with Your Multigenerational Family. Or for more senior-specific activities, you'll want to read this recent article from The Ridge Senior Living.
At The Ridge Cottonwood in Holladay and The Ridge Foothill in Salt Lake City, residents enjoy active, inspired living. You'll be supported by a beautiful environment that celebrates local culture and community at every turn. We're locally owned, locally designed and locally sourced. The Ridge Senior Living is committed to encouraging the good life for you and your family, and we'll support you in any way we can. Find out about The Ridge community nearest you. Just contact us through our website or call 1-877-894-9008.