Spring Cleaning Tips: Clearing Clutter Around Your Parents' Home
We've all been there — too much stuff, not enough space. All the things we accumulate over the years can pile up, leaving us to weave through an ever-shrinking amount of usable square footage. You might think that paring these possessions down will lead to a diminished lifestyle. In reality, having fewer things leaves more room for the stuff you really care about.
If your parents or a loved one is getting ready to move to a smaller place (or just ready to free up some space around the house), now's a great time to clean up and get rid of extra stuff. We've put together this helpful collection of tactics, tools and downsizing tips you can use to cut through the clutter and make more room for the things they enjoy most.
Downsizing? Here's How to Decide What to Keep
You may be familiar with Marie Kondo's popular Netflix series, Tidying Up. In it, she tells viewers to ask themselves one simple question when deciding whether to discard an object: "Does it spark joy?" This basic question is a very useful framework for choosing what to keep.
As you sort through the nonessential items in and around the home, ask your loved ones whether they're holding onto an object because they have a fond memory of it or if they're keeping it simply because they've had it for a long time. Often, we assume that we must keep something simply out of a sense of momentum — old bills, newspapers, phone books, outdated technology, worn-out clothing, decorative trinkets or broken appliances fall into this category.
Ultimately, remember that these are your parents' things. While they may not hold much apparent value to you, we can become very attached to even the most mundane objects. The downsizing process works differently for everyone — by starting the conversation as early as possible, you can give your loved ones time to decide what they can discard and what they really want to keep.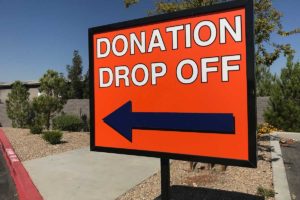 One Man's Trash
Say you've found a lot of things that your parents would like to discard, but they aren't things you can just throw in the recycling bin. Maybe it's a spare TV in a room they'd like to turn into an in-home yoga studio. Perhaps it's your great aunt's ottoman that always clashed with their home décor. What do you do with unwanted-but-still-usable stuff?
There's always an old-fashioned garage sale — but those can be slow, and there's no guarantee you'll sell everything. For the tech-savvy, there's eBay and other online services like Craigslist and LetGo. These can be a great way to dispose of unwanted furniture or appliances. But if you want the excess items gone as soon as possible, you might consider donating them to your local nonprofit thrift store — while you'll likely have to cover your own haul-away service fees, you and your loved ones may discover significant tax write-off benefits for charitable donations.
The Benefits of Small Space Living
Getting rid of excess clutter around the house can lift a big weight off your parents' shoulders, but downsizing your home can kick those benefits into overdrive. Ask your parents to imagine life free from the worries of home maintenance — leaving them free to do more of what they want. Lower home upkeep costs can give them more money for vacations, fine dining, drinks with friends and everything else that makes them happy.
For seniors, downsizing can be the key to a safer home. Less clutter means fewer things to trip over, reducing the risk of serious falls. If you or your loved ones have any mobility challenges, moving away from a large house with multiple staircases to a one-floor house or apartment will make it easier to move around.
If your loved ones are considering a move to a senior living community, downsizing in advance can make that transition much smoother. The most obvious benefit is simply reducing the sheer number of things you'll have to move. Also consider the fact that moving to a senior living community can be an emotional experience, and sorting through and selling off your loved ones' unwanted possessions can make the whole process that much more complex.
Follow this link for more information on the perks of small-space living.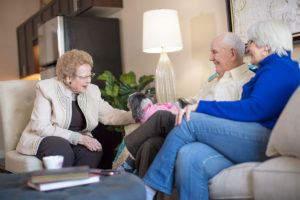 The Ridge Is Here to Help
If you or your loved ones are thinking about transitioning to a senior living community or just seeking more downsizing tips, don't hesitate to reach out. The Ridge team is dedicated to seniors who could use a helping hand — from assisted living to memory care, we pride ourselves on our ability to provide a supportive, uplifting environment that maximizes the potential in each new day.