10 Best Hiking Trails Near Denver for Seniors
With countless hiking trails all over the state, Colorado is ripe with opportunities to get outside and be active. Whether you're a local who likes to explore and share some of the best Colorado hiking trails with friends and family, or you're visiting our great state, we've compiled some of the best handicap-accessible hiking trails near Denver.
Check out our top picks for easy hikes in Colorado.
1. Red Rocks Trail – Red Rocks Park
This beautiful trail located just outside of the Red Rocks Amphitheater is about a 30-minute walk and has a simple loop that circles back to right where you started. Whether you and your fellow hikers have plans to see a concert at the amphitheater or are just looking to get outside and enjoy the view of the vibrant red rocks, you won't be disappointed by this Colorado classic.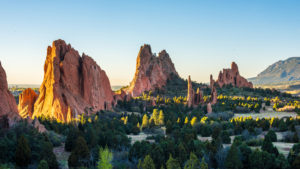 2. Garden of the Gods
Another popular trail is the main paved route through the Garden of the Gods. This trail provides some of the best views of the park and offers easy access to convenient parking — making it one of the best hiking trails for wheelchairs – and an excellent choice for every age.
3. Coyote Valley Trail – Rocky Mountain National Park
If you haven't had the pleasure of spending time on this trail in Rocky Mountain National Park, you're in for a treat. Because this route is packed down with gravel and more level than other park trails, it's one of the area's most delightful handicap-accessible hiking trails.
4. Big Al Trail – San Juan National Forest
For stunning views of the La Plata Mountains with serene pine, aspen and oak trees, visit the Big Al Trail. This Colorado hiking trail is about a half-mile long and is one of the handicap-accessible hiking trails in the area.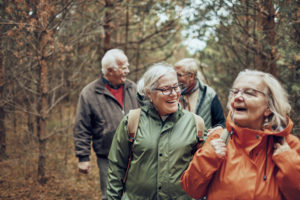 5. South Boulder Creek Trail
Want a trail that provides some lovely shade? South Boulder Creek Trail is nestled in trees and follows a stream that soothes the soul. As one of the coolest hiking trails for wheelchairs in the area, it's a natural choice for an afternoon outing.
6. Canyon View Nature Trail – Castlewood Canyon State Park
You'll surely want to add this to your must-do list of easy hikes near Denver, Colorado. With breathtaking views of greenery, mountains and rock formations, this paved and wheelchair-accessible trail makes for a diverse environment to explore with your loved ones.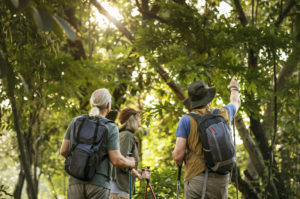 7. Lair o' the Bear – Jefferson County
If you're looking for a trail that lets you stop to take in the beauty and enjoy time with family, Lair o' the Bear is the perfect option. Not only will you get to see the fascinating castle, but this flat path also leads to a creek where many families stop to picnic or play in the water.
8. Coyote Trail – Rifle Falls State Park
This short, paved trail is wheelchair-accessible and leads to three astonishing waterfalls that cascade into a pond. As one of the lushest sites in Colorado, you and your family will be amazed at just how green this location gets during the summer.
9. Raccoon Trail Loop – Golden Gate Canyon State Park
If you and your loved ones are looking for hiking trails that are a bit more challenging but still good for beginners, look no further than the Racoon Trail Loop. As one of the fun hikes near Denver, this trail will expose you to the heart of Golden Gate Canyon State Park.
10. Lily Lake – Rocky Mountain National Park
When hiking in Colorado, there are many options, and Lily Lake is one of the more unique trails that are great for the whole family. With wheelchair accessibility, a level trail, a pond, a view of Estes Cone and a surrounding forest, there's something for everyone to enjoy on a day of exploring.
If you have questions about senior living or want to learn more about the benefits of staying active as you age, check out some of our other blogs.