Memory Care Decorating Ideas To Turn An Apartment Into a Comforting Experience
For older adults with Alzheimer's or another form of dementia, feeling confused and disoriented can become a consistent frustration. Such progressive neurodegenerative diseases make daily living difficult — but there are a number of ways that you can help your loved ones regain a sense of control.
Transitioning your loved one to a memory care community is a vital first step. To make that move easier for you and your family, here's some memory care decorating ideas. These tips and strategies will help your loved one find their way around, simplify important daily tasks, and give their new place the familiar feeling of home.
Familiarity is Key
For those needing dementia care, objects reawaken memories much more effectively than words. To help your loved one feel more comfortable in their new space, it can be helpful to personalize their space with photos, mementos and other sentimental items. These visual cues will help your loved one identify their new place as 'home'.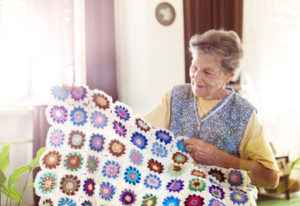 Try filling their space with objects that define who your loved one is — for example, if they enjoy quilting, you might place a beautiful, cozy quilt on their bed or bring in balls of yarn, patterns and a sewing kit (no needles). Dementia care home decor that utilizes these familiar objects around their space can make it feel much less foreign. Plus, this will give their caregivers a clearer view of your loved one's personality.
You should also consider adorning their door with a wreath or another decoration. If you're feeling crafty, try creating a memory box — a shadow box filled with meaningful items that can help your loved one remember which suite is theirs. At The Ridge communities, we accomplish this by placing a digital photo frame outside each resident's suite and adding plenty of pictures of their family and friends.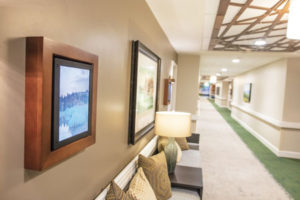 Creating Comforting Surroundings
In addition to the better-known symptoms, it's very common for those with dementia to misinterpret and become confused by their surroundings. Dementia-friendly design considerations are important when choosing which wall art, furniture and patterns to display.
Generally, it is most recommended to bring in bright, solid colors and simple textures. This advice also goes for dinnerware, where solid colors make it easier for your loved one to identify and focus on their meal.
If your loved one is feeling distressed, try this sensory room idea for dementia patients. A combination of the Dutch words for "explore" and "doze," a 'snoezelen' experience is a personalized sensory therapeutic technique designed to evoke a sense of peace, calmness and wellbeing.
You can easily try this technique with your loved one — all you need is some combination of soft lighting, aroma therapy, comfortable fabrics, stuffed animals and a calming visual display. And aroma therapy doesn't need to be an expensive solution — the smell of homemade chocolate chip cookies or a low-tech scent diffuser can be just as effective!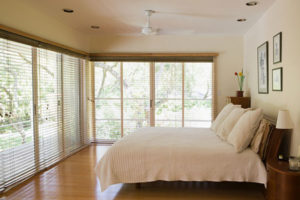 Stay Focused on Safety
While living in a memory care community or neighborhood, there will be a caregiver to look after your loved one at critical moments — but that's no reason to be lax about safety. Make sure their space is dementia-friendly by ensuring that all of the footpaths in their apartment or suite are clear from any obstacles or tripping hazards.
That includes avoiding throw or scatter rugs, especially those with busy patterns, as some with memory loss have trouble with spatial awareness. Broadly speaking, bright contrasting colors on furniture, fixtures, walls and floors can help your loved one distinguish between different surfaces in order to safely and easily navigate their home.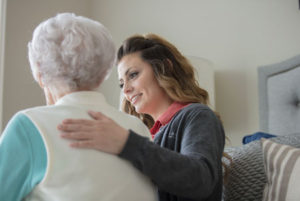 How The Ridge Can Help
At The Ridge, we understand the impact that a dementia-friendly, comfortable, welcoming, purpose-driven environment can have on someone with Alzheimer's or other types of dementia. That's why, in every single facet of our community, we practice a style of care dedicated to finding the things that make your loved one feel most at home.
Throughout our three locations in Utah and Colorado, you'll find the same level of compassion and expertise you can rely on. Continue reading to learn more about memory care at our Cottonwood, Foothill and Pinehurst communities.