Transitioning Mom and Dad to Memory Care
Whether your parents still live at home or are already receiving daily help in an assisted living community, moving a parent to memory care can be a challenging, emotionally charged experience. Though they might understand the practical reasons behind the decision, it's very common for memory-impaired seniors to react negatively to such a significant change. It's common for adult children to experience feelings of guilt during this time. You may feel like you're letting your parent down or shirking responsibility – when, in reality, you're making the only rational choice – and showing that your parent's comfort, safety and care is your first priority.
Conflicting feelings are completely normal.
As a leader in the field of modern memory care, we want to do everything we can to help. This guide offers several tips and tactics that can alleviate stress along every step of this vital transition.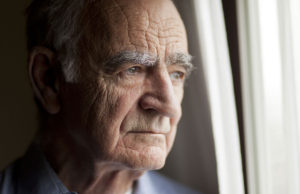 How to Know if Your Loved One Needs Memory Care
A little forgetfulness is common among older adults, and some seniors can remain independent even after being diagnosed with memory impairment – so how can you tell when it's time for memory care? Here are a few warning signs to watch for:
You're always worried. Put simply, if you're concerned that your loved one may pose a danger to their own bodily health or the health of others, it's time to intervene. When in doubt, err on the side of caution.
They're forgetting big things. Everyone forgets things from time to time – but take notice if your loved one is accidentally skipping vital medications, missing meals, or putting themselves in danger by forgetting to turn off appliances or other fire hazards.
You're burned-out. Caring for an aging loved one puts a serious strain on the lives of their caretakers – and that stress can hurt the long-term health of both. Getting the rest you need will make you both happier and safer.
They're feeling down. Unfortunately, there is a known link between depression and Alzheimer's or other forms of dementia. More than simply feeling sad, watch for signs of apathy and social withdrawal.
They just seem different. Nobody knows your parents better than you do. Trust your instincts – you'll notice if they've lost or gained weight suddenly, changed long-standing habits, or undergone a rapid, unexplained shift in personality and behavior.
Work Through Your Feelings First
Before you and your loved one embark on such a significant lifestyle change, it's important that you talk to each other and process your emotions. Understand that your parent will likely feel hurt when you first approach the issue – but allowing them the space to think things through and come around to the idea on their own will make the transition to memory care easier for both of you. Don't be afraid to confront your own emotions around the issue and share them with others – as their child and closest confidant, your feelings are important, too.
7 Tips for a Smoother Transition
Choose the right place. Not every community is the same. Look for a place that offers a broad variety of memory support programs designed to foster engagement and activity – like MUSIC & MEMORY® at The Ridge Cottonwood and The Ridge Foothill.
Plan a visit. Even if they don't remember many details about their visit, bringing your loved one with you can go a long way toward making them feel comfortable in their new community.
Get familiar with care models. Overmedication is a real concern in outdated memory care communities. Look for a place that takes a communication-first approach using the principles of positive validation therapy – like The Ridge Foothill and The Ridge Cottonwood.
Take a closer look. Examine all aspects of life – how is the food? Are the surroundings clean, safe and up-to-date? Do the team members seem active, welcoming and involved?
Preparation is key. Have everything your parent would want to bring already ready for move-in day. Fewer surprises translate to more comfort and familiarity for your loved one.
Keep in touch. After your loved one has moved into their new community, be sure to remain in contact – both with them and their memory care team.
Trust yourself. Being a caregiver is a full-time job – trust that you're doing the right thing for yourself and your loved one.
Why The Ridge Could Be the Right Fit
If you're looking for a high-quality memory support community, we ask that you consider The Ridge Pinehurst, The Ridge Cottonwood or The Ridge Foothill. With two locations in and around the Salt Lake City metropolitan area and one in Denver, your loved one will always be nearby, giving you the chance to check in frequently. Our dedicated team of memory support professionals will build an individualized plan oriented around your loved one's unique needs.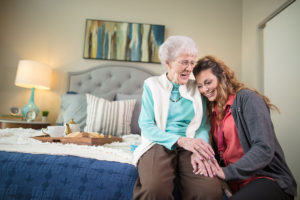 We have the breadth of experience needed to understand the challenges that arise from this difficult transition, and we'd like to become a resource you can lean on. Please contact us with any questions you may have about senior living communities, memory support at The Ridge, or anything related to caring for a loved one with Alzheimer's or other forms of dementia. Our mission of supporting seniors in all phases of life means we're always here to help.