Looking for Pet-Friendly Senior Living?
Pets are part of your family, so it's natural to want to bring yours with you when you move into a senior living community. As you look into pet-friendly senior living, here are some questions to ask so you can help ensure your furry or feathered loved one will be welcomed and happy.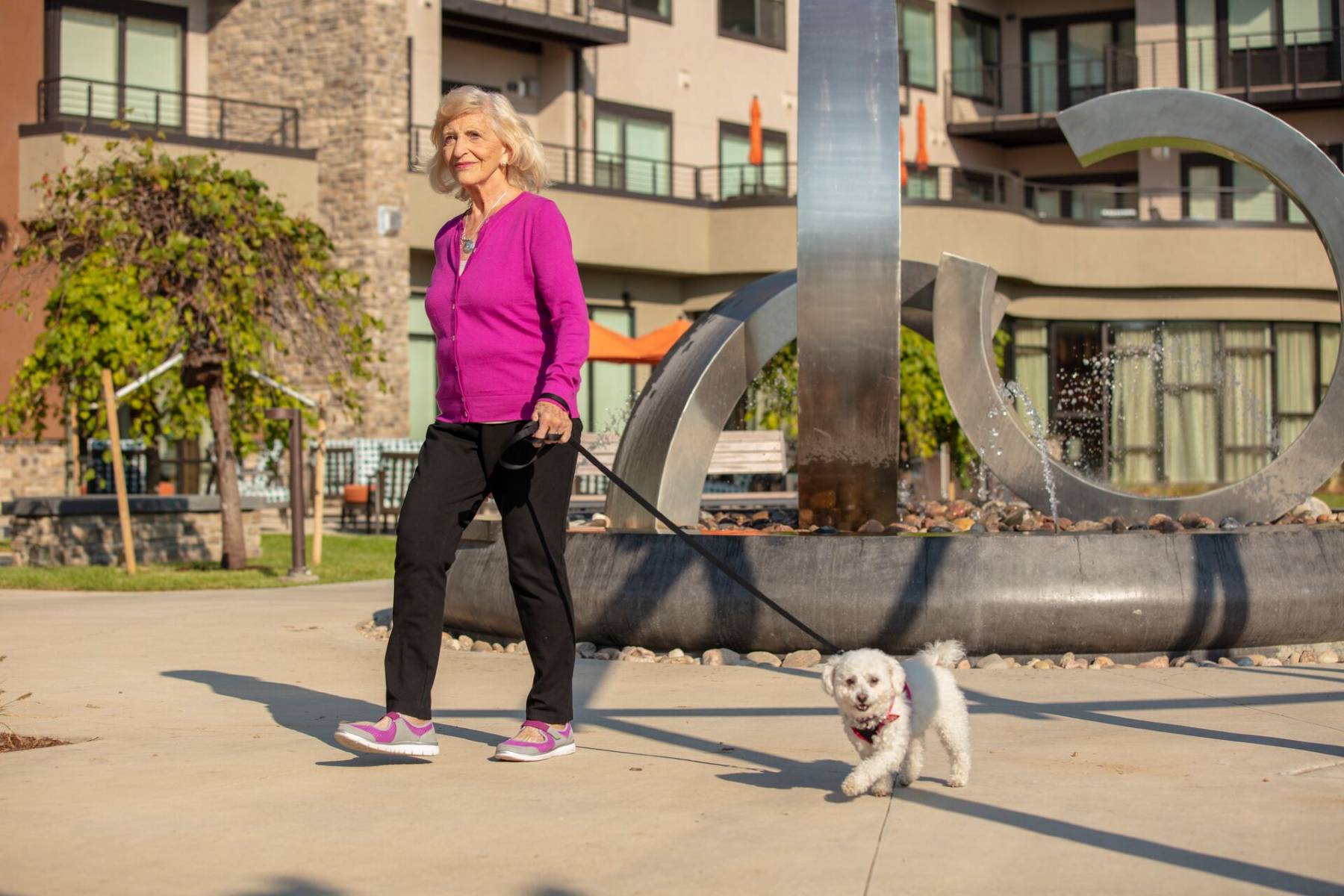 Seven Questions to Ask When Moving to Senior Living with a Pet
1. Do you allow pets?
While many communities have pet-friendly senior apartments, there are still some that don't. If you plan to bring a furry or feathered friend with you, be sure to confirm the community will be happy to have them on campus.
2. Is there a limit on the number of pets per resident?
While pets provide companionship for us, they also keep each other company when we're out and about. If you have multiple cats or dogs, ask the community if they have a restriction on the number of pets you can bring with you.
3. Are there specific animals that aren't allowed?
Undomesticated or exotic animals such as snakes or certain kinds of birds may not be permitted in order to ensure the health and safety of all residents.
4. Do you have breed, size or temperament guidelines?
If the community does allow pets, they may have some restrictions in place. Cats and small dogs are likely to be welcome with open arms, but larger dogs like Great Danes and German Shepherds may not be able to join you. Even if your pet does fit the breed and size requirements, they may still need to be evaluated for temperament so the community knows they'll get along well with other residents and their pets.
5. Are there community spaces for pets?
If you previously lived in a house with a backyard or where you had easy access to a dog park, your pet will be used to roaming in open spaces. Confirm with the senior living community that there is outdoor space for your animals to enjoy. If you have a cat that enjoys roaming the neighborhood, be aware that might not be permitted at a community due to safety concerns for other residents. 
6. Is there a pet deposit or monthly fee?
Some communities require an initial deposit for your pet or a monthly fee for additional maintenance. Ask about any additional costs so you know how to properly budget for pet fees.
7. What are the vaccination requirements?
Vaccinations will likely be required by the community to ensure the health and safety of other pets that live there. Be sure to ask what vaccinations your pet needs and be ready with the proper paperwork before you move.

Did You Know?
The Ridge is one of the few pet-friendly senior living communities in the nation that allows pets in memory care. Having a companion pet can help reduce anxiety, agitation, depression, irritability and loneliness for someone with dementia. And pets can also help memory care residents be more socially interactive.
We know how important pets are for seniors — so ask us about our pet-friendly senior apartments and the dog park at The Ridge Pinehurst! Contact us using the form below.