Studio Apartment Ideas: Live Big in a Smaller Space
If you're anything like the average American homeowner, the idea of downsizing to a studio apartment might sound strange. But having a bigger place isn't always best — in fact, many people from all walks of life are downsizing to studio apartments and coming up with great studio apartment ideas to make them feel like home.
In this blog, we'll cover some of the big benefits of moving into a smaller space, along with some advice on how to decorate a studio apartment and turn it into your one-of-a-kind masterpiece.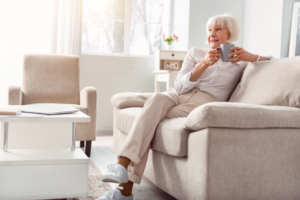 Doing More with Less
All too often, we become preoccupied with the objects and possessions that surround us. These possessions can become a distraction from the things that matter most, like engaging with your hobbies and spending more time with the people you love. If you're the type of person who wants to make the most of their retirement while receiving all the essential help you need, downsizing to a studio apartment simply makes a lot of sense.
Think about it — with no utility costs, less clutter and easier upkeep, you can spend more time doing whatever makes you happiest. Of course, downsizing is also a very prudent choice for older adults with memory impairment, or people who could simply use an extra helping hand with the vital activities of daily living. Best of all, life in a studio or apartment at a retirement community means a built-in network of neighbors to befriend.
Three Big Tips for Small Apartment Living
Simplicity Is Key
Wondering how to decorate a studio apartment and make it your own without making a mess? Follow this simple maxim: Keep it simple!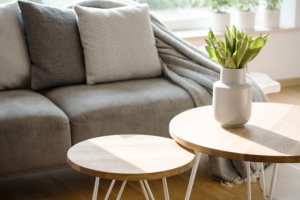 Paring down your possessions is never easy — but living simply can hold huge benefits for your mental and spiritual health. Instead of trying to cram everything you own into your smaller space, try to take stock of the day-to-day utility of the furniture, appliances, decorations and other objects in your current home, along with the emotional significance that each item holds.
This also holds big safety benefits for older adults in assisted living and memory care— less clutter means fewer obstacles and obstructions to impede your ability to get around your new place.
No Single-Taskers
We've all been guilty of a self-indulgent shopping splurge, but a huge part of cutting down on clutter and simplifying your life is eliminating the rarely used tools, gadgets and other knickknacks that only take up space. This goes double for those living at a senior living community — you definitely won't need your leaf blower or full-size printer!
Conversely, finding furniture that serves multiple purposes is an incredible way to make your new apartment feel more spacious. For example, expandable drop-leaf or wing-gate tables can easily grow or shrink to suit a dinner party or game of cards with your best friends. Storage ottomans and nesting accent/side tables are also a good option.
Make Mini-Rooms
Breaking up the space in your main room can make a small studio or one-bedroom apartment feel a whole lot bigger. Use tall shelves or purpose-made dividers to split your main room into smaller 'mini-rooms' — if your apartment comes with a kitchen (as do many floor plans at The Ridge communities – Foothill and Cottonwood in Utah and Pinehurst in Colorado), this is a good way to keep your eating space and living space discrete and organized. You can also create a cozy office, home library or breakfast nook.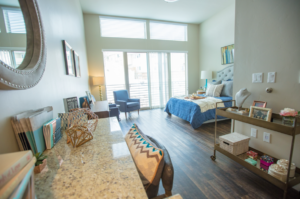 Find Your Fit at The Ridge
Whether you favor a cozier home or want more room to stretch your legs, you'll find the perfect place to create your ideal retirement lifestyle at The Ridge. With studios and one- and two-bedroom apartments available in all our communities, we've got the right space for you.
Interested? Continue reading to learn a little more about assisted living apartments at Foothill, Cottonwood and our all-new Denver community, The Ridge Pinehurst. If you're looking for memory support options for a loved one, The Ridge can help — read more about our memory care options at Foothill, Pinehurst and Cottonwood.